HANKYU HANSHIN EXPRESS PHILIPPINES, INC.
Hankyu Hanshin Express Philippines, Inc. (HHEPH) was originally established in June 1997 and began its commercial operations in 1998, as an Advanced Total Solution of International Freight Forwarding for Air and Ocean Cargo, a Logistics and Customs Clearance Service Provider committed to provide a fast, efficient and more reliable services to the stakeholder at all times.
HHEPH develops a comprehensive freight forwarding services tailored to meet and provide high-quality and consistent services that exceeds customer expectations. These are accomplished by learning customers' requirement and objectives; and continue to adhere to the highest ethical standard in Service Performance. We are now handling various commodities, including electric goods, and etc.
And as a Total Logistics Service Provider, we are able to provide total solutions through HHEPH, Hankyu Customs Brokerage Inc. (HCBPH) and Hankyu Hanshin Logistics Philippines Inc. (HHLPH), and thus have completed a seamless provision of services from freight forwarding (both Air and Sea), Brokerage, Land Transportation, and Warehousing catering to the Business Partners in building bridges to deliver trade across the globe.
HANKYU HANSHIN LOGISTICS PHILIPPINES INC.
The opening of HHLPH in the Economic Zone has completed our seamless provision of services.
It is registered as an Ecozone Logistics Service Enterprise authorized to engage in storage, deposit, inventory management, importation / procurement of semi-finished goods for subsequent sale, transfer or disposition to export enterprise for direct export or for consignment to export enterprise.
We are handling temperature controlled goods as well in our warehouse.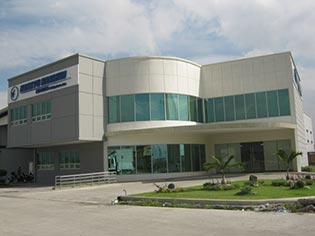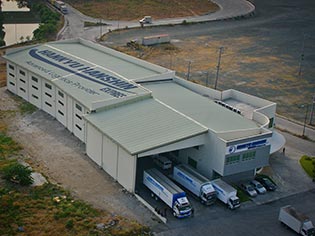 Office